This bike is located in the Netherlands. I have written some information here in Dutch and in English. If you need to know more, don't hesitate to email me, rikw@earthlink.net
Thank you.
Rik
1983 Suzuki RGB500 GP

Email me for the price of this very special bike.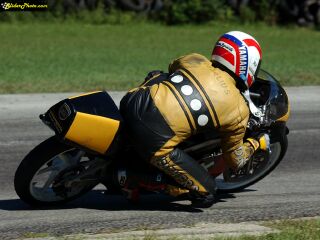 Dutch version:

Motormerk: suzuki
Type: RGB (mk8) 500
Cilinderinhoud: 449 cc
Bouwjaar: 1983
Aantal cilinders: 4
Inlaat systeem: roterend
Boring: 54X Slag: 54
Carburateur: mikuni vm 36 ss
Brandstof: ( avgas) 100LL.
Gewicht: droog 137 kg
Topsnelheid: 275 km / pu
Tak van motorsport: wegrace

Bijzonderheden:
Het laatste seizoen van deze motor
Was 1988, deelgenomen in het
Nederlands kampioenschap, europese
Kampioenschap en in drie grand prix,
t.t. assen, francorschamps en
donington park.

1988 was het laatste seizoen dat er meegereden is, deze motor is nog een keer gebruikt door Boet van Dulmen in een parade tijdens de T.T. van 1995, de conditie van de motor is heel goed en er zit een W.P. voor fork in verder op de wielen na (P.V.M.) geheel standaard.


English version:


Make: suzuki
Model: RGB (mk8) 500
Displacement: 449 cc
year: 1983
Cylinders: 4
Intake: rotating
Bore: 54X Stroke: 54
Carburettor: mikuni vm 36 ss
fuel: ( avgas) 100LL.
weight: dry 137 kg
Topspeed: 275 km
Roadrace

A note of interest:
The bike was last ridden in 1988, competing in the Dutch championship, European championship, and was in three grand prix, TT of Assen, Francorchamps GP, and Donningtonpark GP.
This bike was only used one more time at Assen by Boet van Dulmen (ex_GP Dutch racer)on the parade of Assen in 1995, before the real races. The condition of the bike is very good. Besides the White Power front forks, the bike is completely standard.

The English version was called -MK8- I believe. If I'm wrong about the -MK8-, please let me know. This is the sort of bike Barry Sheene used to race in his days.
Speed week at Assen 1988.
At the Spa Francorchamps GP in Belgium.

This is what the 1983 Suzuki RGB 500 looks like at this moment. It was painted this color for Boet van Dulmen, who rode this bike in the Dutch TT parade lap in 1995, last time this bike was riden. This bike is a for real Japanese factory built race bike, lots of privateers got their hands on them in the early '80's. Now they are becoming rare and a must for collectors!
More Suzuki 500 samples, and other older beauties.
I have these pictures on my site to help a friend to sell his bike. I'm not involved in the sales of these bikes. I'm just posting the story on my site and I translate and shall forward any email to the owner. Thank you,
Rik.