It was very easy to put the TZ engine in. It just has the same size as the RD 400, just slide it in. Had to weld some mounts to hold the radiator, but that was all. Looking at it from behind, staring at 2 powerjet 38mm carburetors. Flipped the shifter over, 1 up, 5 down.
So you find out everything is A-OK, and now it is time for some testing. finally!! So I went to a remote place some where in the Amsterdam industry area, where more people seem to test their bikes. Sprinters, cars, dirtbikes, and people like me.......
Cops sometimes show up to see what is going on, but usually is never a problem, unless they think the bikes are stolen, and that happens a lot there!
So a bit of jetting, trying to find a sprocket that runs fine for the first time. My first try was a disaster, i had it geared wayyyy to tall, clutch was slipping, and I didn't know what I was doing. The first gear was soooo long, like taking off in your car or bike in third! So I changed that, and "VOILA" perfect bike. I really had to get used to the RPM and the sudden power hit. This bike was fun!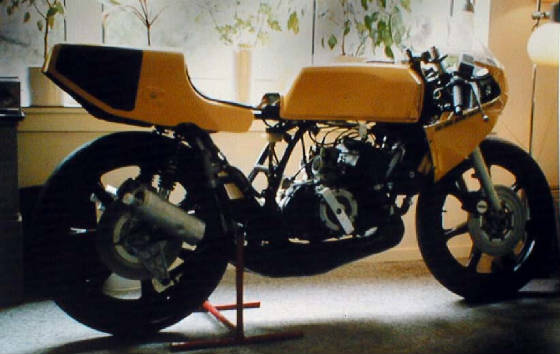 From the right side to have a different view of the whole bike. At that time I thought it was a pretty good bike. It was a bit short and cramped, but what did I know about race bikes. Just think 10 years later I'm on a RS125R Honda again, talk about no space!! I'm as limber as a 2x4.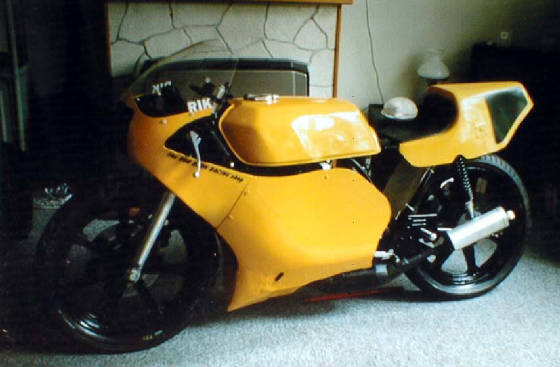 A few months later it became a real 1979 TZ350 Yamaha. It still had the RD400 front forks and break disk, wasn't really up for this sort of driving.